Do you know what the taste of Colombian coffee is like? Colombian coffee has the same taste as the best coffee in the world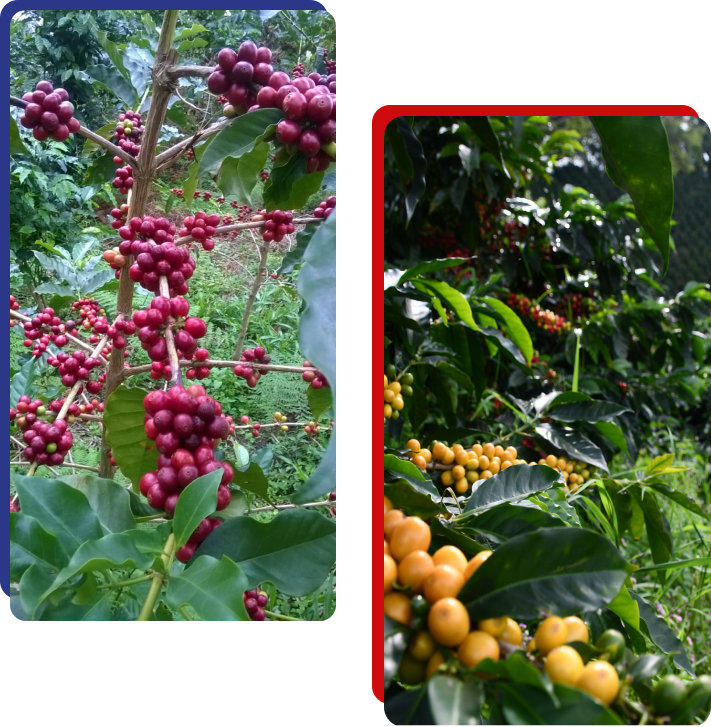 Green Coffee
Arabica Green Coffe Beans
Varieties: Geisha, Burbon, Typica , Caturra , Castillo
Origin:​ Planadas – Tolima – colombia
Santa Marta – Colombia
Process: Washed, Natural, Honey (upon request)
Certificates:​ GAP: Compliance GAP
· SCAA: certifies the quality of the bean​
· FNC: Colombian National Coffee Federation
ORGANIC: if requested.
ALSO: UTZ certified, Fair trade Certified, Rain forest
Upon request.
Experience in the market:​ Our green coffee beans has being
exported to: South Korea, Japan, China, USA, and Dubai
Packing:​ Green beans available in the following packaging:
– Sacs of 70kg
– Sacs of 35 kg
With grain pro and sewed label.
Other packaging like 12kg is upon request
Geisha – Washed: 8 – 10 tons per year
Maragogipe: 1200 kg per year
Castillo: 50 tons per semester
Caturra: Approximately 50 tons per semester
*Capacity may vary according to the time of the year.
This is an average estimate.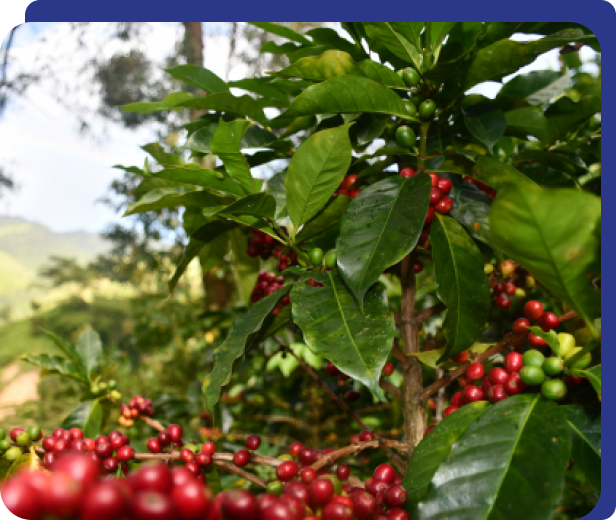 Social responsability of our coffee
When you purchase our coffee, you are directly supporting our two farms as well as another 15 to 25 families, some of whose members work on our team. Responsible purchasing from our farms enables us to continually enhance our procedures, processes, infrastructure investments, competitiveness, and especially our sense of being fairly compensated for our months of labor. When you buy from our farms you contribute to a sustainable production unit in all its pillars. Family, Environmental, Social and Financial.
Where is our coffee coming from?
Each coffee bean you drink has traveled a great distance, has been transformed and refined for you to drink a delicious cup From our farm to your cup this is our coffee works!
What is Villa Coffee?
It is a socially self-sustaining agroecological production unit, managed by the Gutierrez Devia family. It is located in the district of Bilbao Planadas Tolima Colombia.
This TCF farm counts with its own seed house and it has being named VILLA COFFEE For being a place of progress, peace, pleasant rest with a good coffee.Villa Coffee is surrounded by Water, forest, clean air, healthy land, lots of flora and fauna.
Varieties
Caturra, castillo , tabi, geisha
Divided as following:
Caturra 15 thousand trees,
castillo 18 thousand trees,
tabi 1000 trees,
geisha 5000 trees and will increase 3000 trees more at the end of 2022.
We have joined organic practices since 2014, motivated by environmental conservation and clean production for our health.
Since implementing organic practices, the farm has visit of many more birds, the land is considerably much healthier and more productive, there are swarms of bees in the production unit.
How can you impact Villa Coffee?
Our next target is to implement a solar electric system. Mechanical dryers to guarantee that the product maintains its quality, in agro-tourism some cabins near the mountain so that when you come you can enjoy your stay, seeing the flora and fauna.
Napoles Coffee
Our coffee comes from the Santa Marta Snow Capped Mountains in northern Colombia, which is covered with snow all year round. Several rivers caused by the melting snow in the mountains flow throughout the area. The coffee producing area is located in the valley in the middle of this mountain range
Our location
Department / Province: Magdalena.
Municipality and Town: Cienaga
Village: Palmor (palmor de la Sierra)
Valley: San Fernando
As family Napoles harvested Coffee since 1960.
Focus on the local and domestic supply.
In 2003 we created our company
as coffee producers.
Varieties
Geisha, tabi, castillo y bourbon
Our practices
– The Coffee bean grows under shadow
– Coffee is picked by hand, carefully and without damaging the coffee tree and only selecting the ripe cherries.
– Trash recycling
-Filter the water used after the first coffee wash, so it comes back to the nature 95% clean.
– Compost in the farm. With the pulp of the coffee. Which is use as fertilizer for other coffee trees.
– There are no heavy industrial machines passing through the plantation or fertilizing the land or aggressively passing the farm and coffee area.
coffee is transported by (mules) horse, and we don't allow any machine or car to alternate the natural environment not to born fossils as petroleum or oil.
-We love animals so after the horse is old, we don't sell it or kill it, it just retired in our farm till it passes away.
-We recently acquiring a machine called ECOWASH that allow us to use less water at the moment of washing the coffee.
-Coffee is naturally dry under the sun or in African beds but no machines
How can you impact Napoles?
At Napoles we want to go into carbon neutral practices, which it includes monitoring more our process. Buying directly from us will help us to work harder for this target.
¿Are you interested in any of our products or services?
¡Contact us!